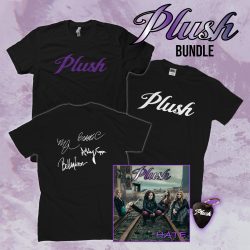 PLUSH Bundle (Re-Stock)
PLUSH Bundle Package! Includes the debut CD Single "Hate", Official T-shirt, and Guitar Pick Key Chain.
Shirts come in either Purple logo or White logo, with girls signatures on the back of the shirt in white.
If wanting the White logo option please be sure to choose that from the menu. No exchanges.
PLUSH has teamed up with Pavement Entertainment to bring you this Exclusive Bundle package.  CD  Single "Hate", Logo shirt design and Guitar pick Key Chain!!!