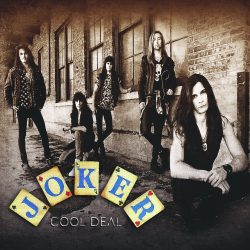 Joker- Cool Deal
After a 23-year hiatus, Joker is back! The band is coming together again to release their 1992 album the Cool Deal .
The band formed back in 1985, with Tony Ingala providing lead vocals, Joey Miroballi and Nick Sikich on guitar, Brian Smolar on bass, and Mike Stone on drums.

Back in the 80s and 90s, Joker made an impact with its fresh, powerful sound, which ranged from soft ballads to heavy metal. True to its name, the band has always had a sense of humor and has described its sound as "heavy aluminum." The band was signed to Chicago label Red Light Records in 1990 and put out its national debut album, self-titled Joker. The band went on to record the album Cool Deal, with producer Gary Loizzo (Styx, REO Speedwagon). Due to politics with distributor Zoo/BMG, the album was only released in Japan.

The band, in conjunction with Red Light Records and Pavement Entertainment, have reissued Cool Deal, which is available now.